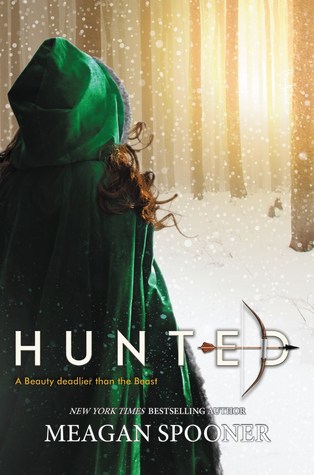 Title: Hunted
Author: Meagan Spooner
Series: It's a standalone
Publisher: HarperTeen
Pages: 374
Publication Date: March 14 2017
Genres: Retelling, fairy tale, fantasy, young adult
Goodreads: 4 Stars
Synopsis:
Beauty knows the Beast's forest in her bones – and in her blood. Though she grew up with the city's highest aristocrats, far from her father's lodge, she knows that the forest holds secrets, and that her father is the only hunter who's ever come close to discovering them.
So when her father loses his fortune and moves Yeva and her sisters back to the outskirts of town, Yeva is secretly relieved. Out in the wilderness, there's no pressure to make idle chatter with vapid baronesses… or to submit to marrying a wealthy gentleman. But Yeva's father's misfortune may have cost him his mind, and when he goes missing in the woods, Yeva sets her sights on one pretty: the creature he'd been obsessively tracking just before his disappearance. The Beast. Deaf to her sister's protests, Yeva hunts this strange creature back into his own territory – a cursed valley, a ruined castle, and a world of creatures that Yeva's only heard about in fairy tales. A world that can bring her ruin – or salvation.
Who will survive: the Beauty, or the Beast?
Beauty and the Beast, my all time favourite.
This book has a very special place in my heart. It took me far far away into a distant land, where fairy tales come to life in an ordinary girl's world. I loved reading this retelling, I thought it was so very well done. It was refreshing and real, I ignored all else when I reading Hunted, and I couldn't put it down!
Continue reading "Hunted by Meagan Spooner" →